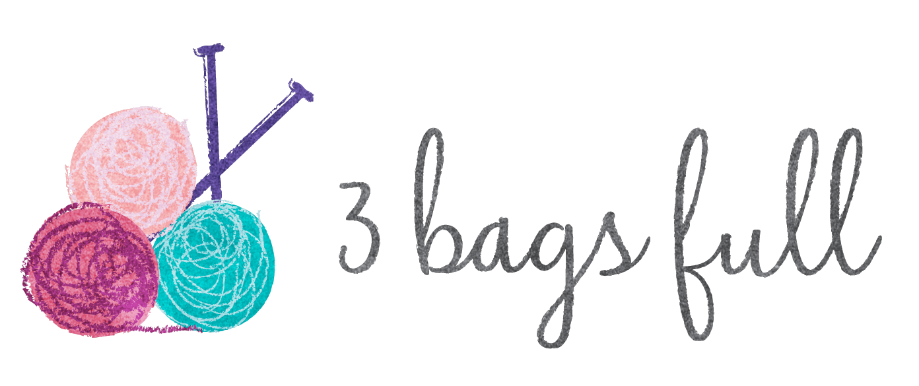 We had enthusiastic feedback about the Woolly Workshops we ranin 2018 and are planning more for 2019. Let us know which workshops you'd like to see using our contact form. You can seea list of all the workshops we ran below.
Weaving without a loom
Tutor: Nikki Little
Learn how to weave a seamfree bag on a simple cardboard loom. Make a small bag or cover for an item such as a phone or kindle. You will learn how to warp the loom and some simple tapestry weaving patterns such as spots and stripes. Those who have some previous experience can learn how to weave a bag with a flap.
Materials – please bring a piece of strong cardboard; ruler and pencil; scissors; warp thread eg crochet cotton which won't stretch; wool or other fibre for weft in one colour or a variety of colours and thicknesses (this is a great way to use up your stash); blunt ended wool needle – ones with flexible plastic eyes are ideal.
Suitable for: everyone
Selbu mittens
Tutor: Anniken Allis
Traditional Norwegian 'Selbu' mittens are popular with knitters around the world. Traditionally knitted in black and white wool featuring Norwegian 'fair isle' patterns but these mittens can be worked in a variety of colours for a modern look.
This workshop will teach you how to knit fair isle, how to knit in the round with a circular needle using the magic loop technique and how to shape your mittens.
Techniques taught in this class can also be used to knit traditional Latvian and Estonian mittens.
You will get a Selbu-inspired mitten pattern to take home.
Materials – all provided
Suitable for: intermediate knitters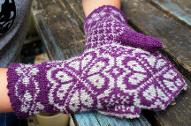 Hairpin crochet
Tutor: Diane Stewart
Hairpin lace is a beautiful variation on crochet, in which an ordinary crochet hook is used with a hairpin loom to create lacy, openwork designs. Hairpin crochet involves creating strips around the loom and these are then crocheted together in a number of ways to create different and varied designs.
We will be learning to do the basic technique plus cable joining with a pattern to make a chunky cable cowl.
Anyone who attended last year's workshop will have the opportunity to try out further techniques such as making circular shapes.
Materials – the looms and crochet hooks will be available to use on the day. Please bring smooth DK or chunky yarn (not a dark colour).
Suitable for: anyone with basic crochet skills.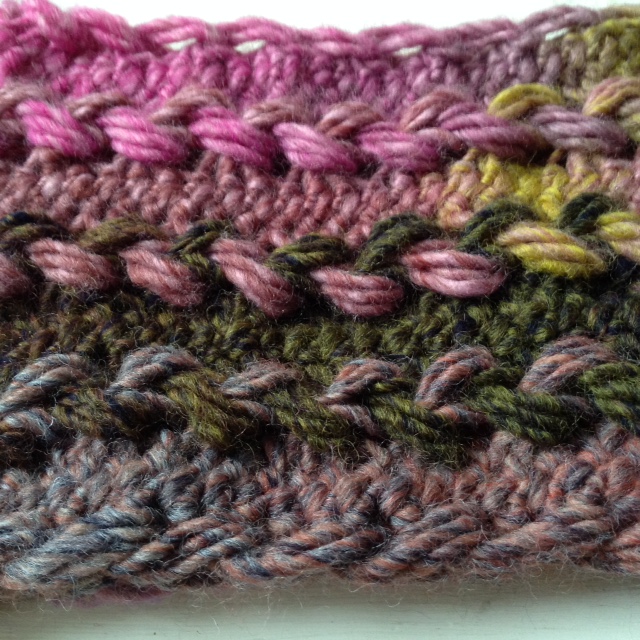 Tunisian Crochet
Tutor: Dianne Stewart
Tunisian crochet is a form of crochet that uses a long hook to gather up and then work off stitches, making a compact fabric, suitable for bags, cushions, hand warmers and many other projects.
You will learn the basic techniques and stitches of Tunisian crochet and how to use different colours to make great effects in your projects.
The workshop will include instruction sheets for the basic stitches and techniques.
Materials – Tunisian crochet hooks will be available to borrow at the workshop. Please bring 2 colours of DK yarn to practice with (not dark colours).
Suitable for: anyone with basic crochet skills.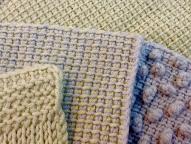 Silk Painting
Tutor: Jackie Long
You will learn the techniques of applying gutta outlining, mixing silk paint colours and applying the paint to produce a simple design which can later be framed or applied to bags or clothing using bonda web.
Materials:
An idea for a design or a picture/pattern to use - or think of one on the day.

An apron
Suitable for: everyone.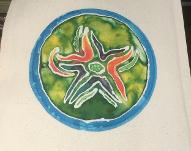 Introduction to Spinning using Hand Spindles
Tutor: Eileen McTague
Come and learn about preparing fleece and fibre, try some carding and learn to make your own yarn using a top whorl drop spindle.
Materials: Wool fibre will be provided. Spare tools will be available for you to use, but if you have your own carders or hand spindle please feel free to bring them along.
Suitable for: everyone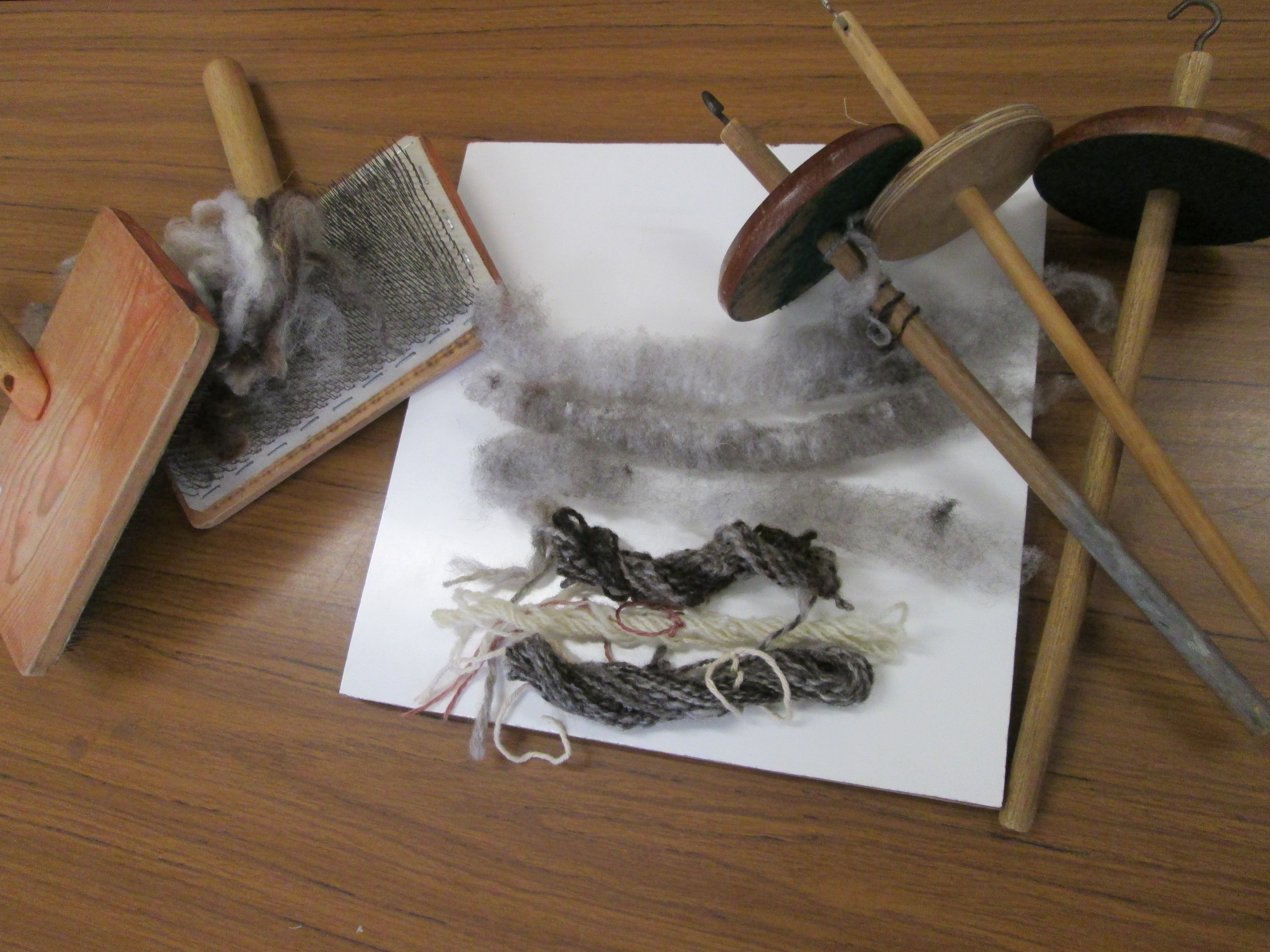 A Hat in the Round
Tutor: Eileen McTague
If you can cast on, knit and purl but are not sure about using circular needles this is the workshop for you.
You will be knitting a baby sized hat and will leave with a pattern to make an adult hat at home.
If you haven't done circular knitting before it is well worth learning. The magic loop technique allows you to knit any size in the round. It is the ideal way to knit hats, socks and garments without seams, giving a better finish, increased comfort and no seams to sew up at the end!
Materials:
50g Aran baby wool (or 2 strands DK)

6mm circular needle

stitch marker

tapestry needle
Suitable for: anyone with basic knitting skills.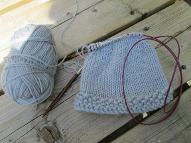 Wild knitting
Tutor: Lisa Tricoteuse
Inspired by natural colours and textures set your knitting free! We will learn how to use nature as our inspiration, how to choose a colour palette & how to set our free ourselves from the constraints of patterns.
Materials: yarn provided. Bring your own circular needles or buy some at the workshop.
Suitable for: knitters.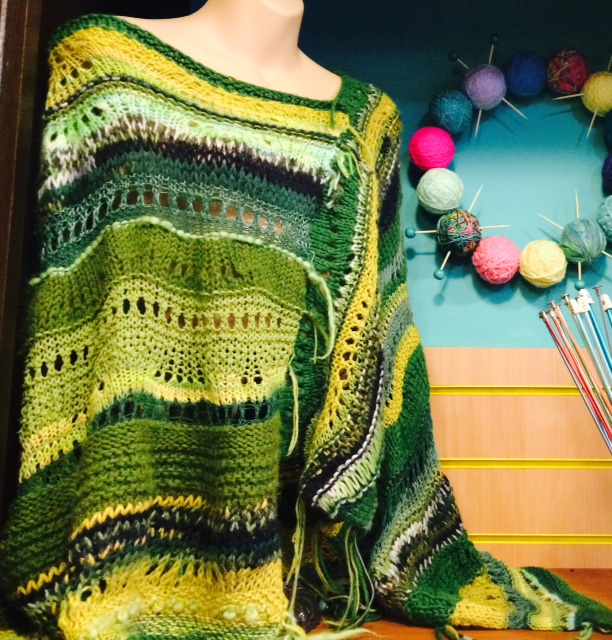 Tatted lace – a beginner's guide
Tutor: Molly Tufnell
Tatting has an intricate beauty, is versatile, easy to learn (left handers too) and is made using a shuttle. Molly will guide you through the basics where you will learn to make rings, picots, chains, how to join and then of course, how to read a pattern. Master these steps and you will be ready to start your first project. Molly will give you a comprehensive step by step guide, as well as a pattern that she has especially designed for beginners. This little pattern is called 'Crowning Glory' and is suitable for use in most craft blanks like cards, coasters, paperweights etc.
More information about Molly and her course can be found at: www.mollytufnell.co.uk
Materials: all materials will be provided, but bring 2 tatting shuttles, crochet cotton and a 0.6mm crochet hook if you have them.
Suitable for: everyone.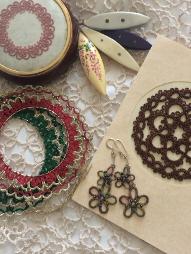 Fimo Clay Shawl Pins and Buttons
Tutor: Jackie Long
Come along and make a shawl pin to match your favourite creation and add some buttons too.
Materials: all provided
Suitable for: everyone.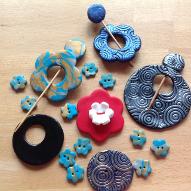 Needlefelting
Tutor: Kay Walker
Have a go at both 2D and 3D needlefelting and take home what you make. Kits are also available to buy from £10.
Materials: all provided.
Suitable for: everyone.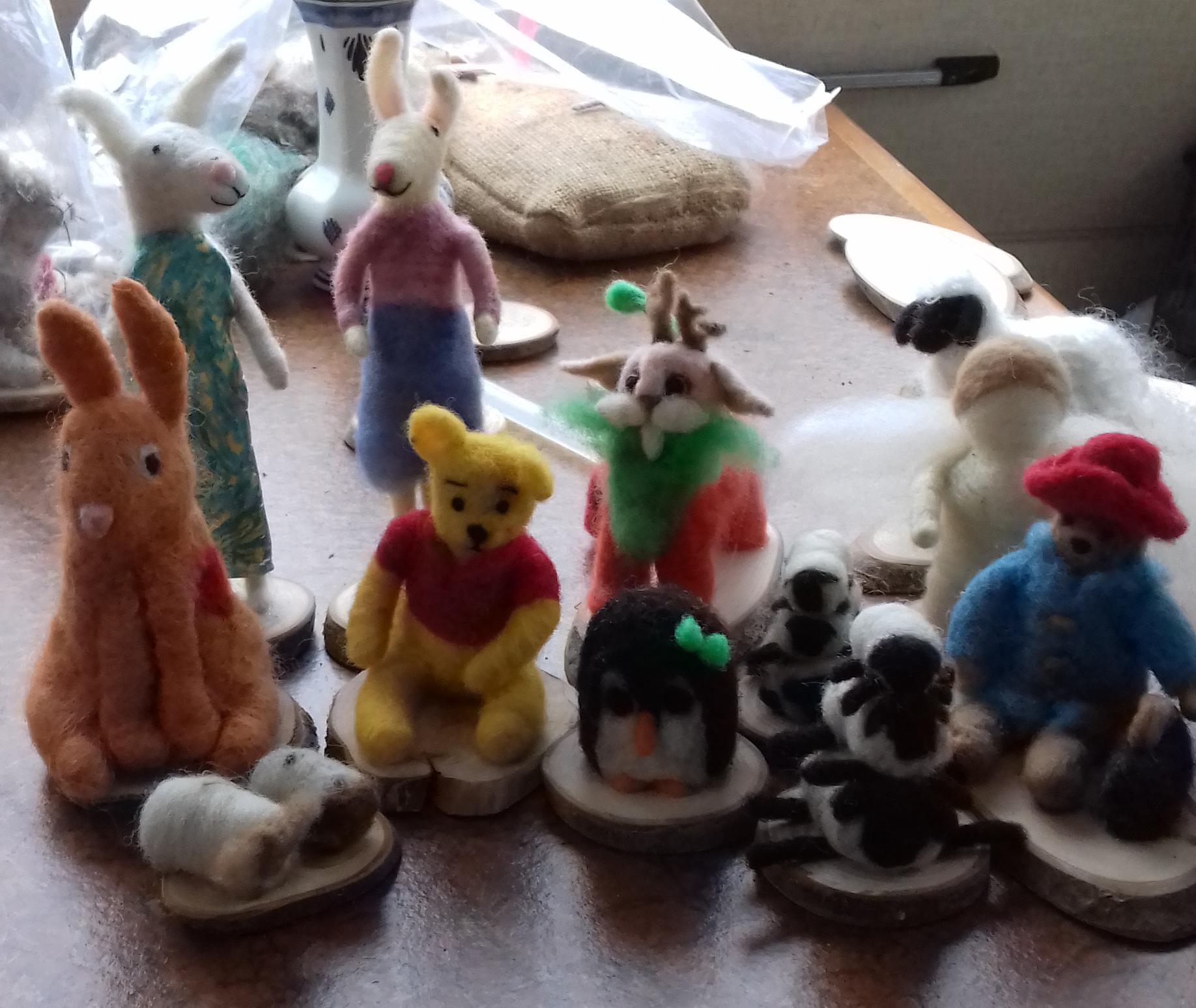 Crochet poppies and other flowers
Tutor: Sioux Legg
Learn how to crochet a range of flowers, including poppies (to mark the centenary of the end of WW1). Beginners will be able to learn the basic stitches and then move on to simple flowers.
Materials: all provided
Suitable for: everyone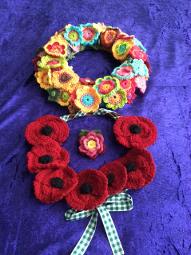 Professional Finishing Techniques
Tutor: Anniken Allis
After spending hours, weeks or months knitting a beautiful garment poor finishing can ruin all your hard work. Learn how to sew in ends neatly, block and press pieces correctly, sew up garments using mattress stitch, shaping to make sewing up easier, picking up stitches for neck bands and button bands, short row shaping and three needle cast off for shoulders.
Materials: please bring some smooth dk or aran weight yarns and suitable needles, a blunt sewing needle and two 15x15 cm stocking stitch swatches in a smooth yarn. Do not cast off your swatches but leave them on a piece of waste yarn. Bring a third swatch in stocking stitch (approx 10cm wide x 20cm tall) - this swatch can be cast off.
Suitable for: All knitters who can cast on and off, knit and purl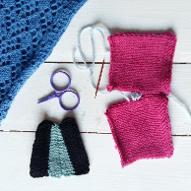 Free machine embroidery - tension techniques
Tutor: Molly Tufnell
This workshop is intended to give you a grounding in the exciting and varied textures you can produce with your sewing machine by exploring tension techniques. We will look briefly at how to produce whip and feather stitch using the top tension but the main focus of the day will be on working with bobbin tension and learning the possibilities of Cable Stitch. The emphasis will be on experimentation using your own range of threads and these might also include smooth yarns more usually associated with hand embroidery to include: ribbons, stranded cotton, stranded crewel wool, fine knitting wool, perle threads, silk and so on. The day is for you to produce your own interesting range of samples.
Note: We will be altering the bobbin tension on vertical loading machines (some people prefer to buy a spare bobbin case to play with but this is not necessary as there is a simple trick that you will learn to reset your bobbin case back to normal) and bypassing the tension mechanism on horizontal loading machines.
Materials: Sewing machine in excellent order where the feed dogs can be lowered or covered and where you can control top tension and set stitch length and width to 0/calico/any pre-dyed fabric/machine embroidery threads/threads as described in publicity/usual sewing kit/8" wooden embroidery hoop/a proper screw drivers/your sewing machine instruction booklet
Suitable for: people already confident with simple free machine embroidery.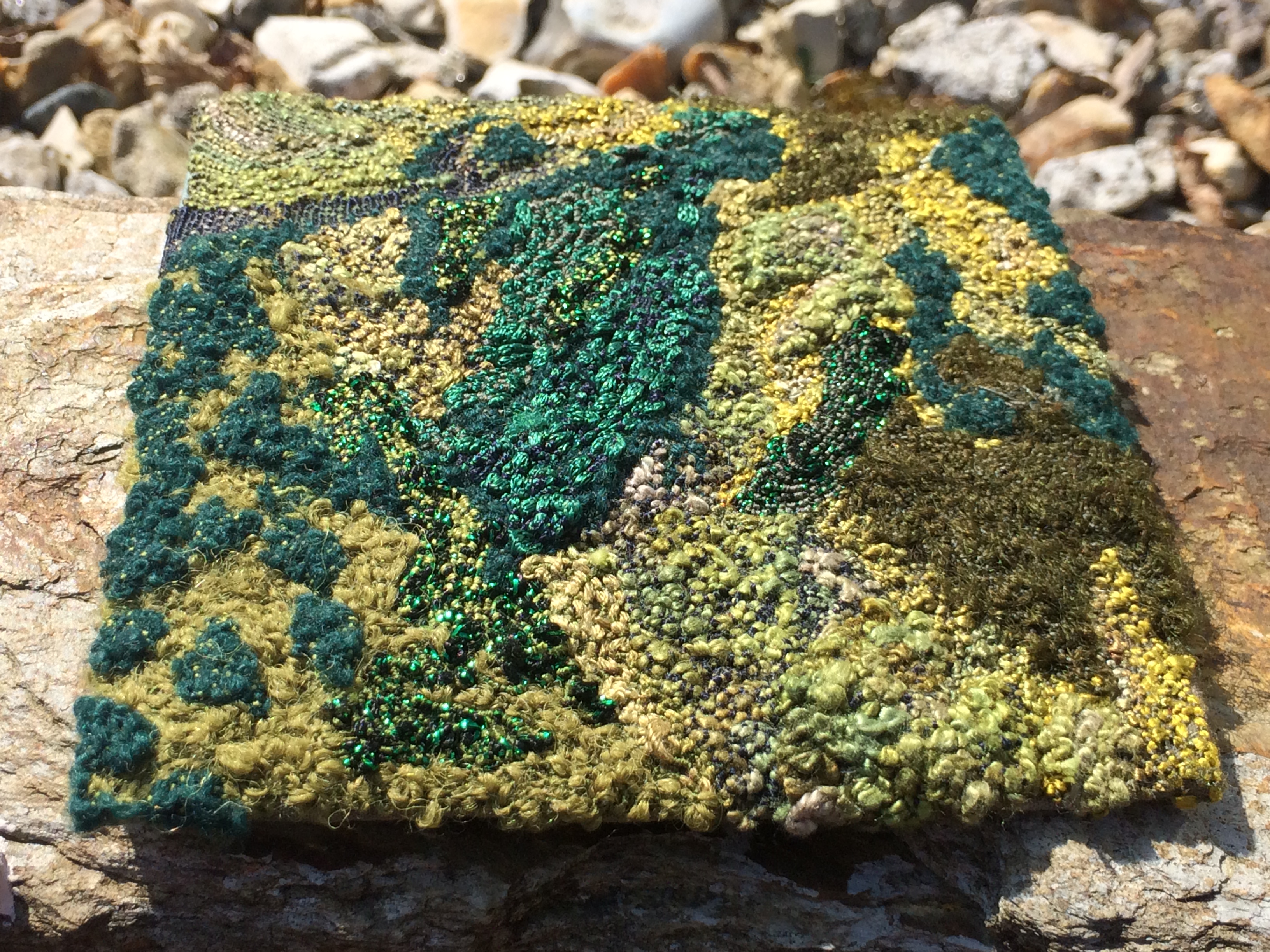 Never Felt Wetter
Tutor: Sue Field
An introduction to wet felting using homegrown fleece in neutral colours,using the rocks on Bodmin Moor as inspiration. Make felt balls, dreads and pieces of flat felt big enough for a hat or a bag.
Materials: all provided.
Suitable for: Suitable for beginners or those wishing to have wet soapy fun.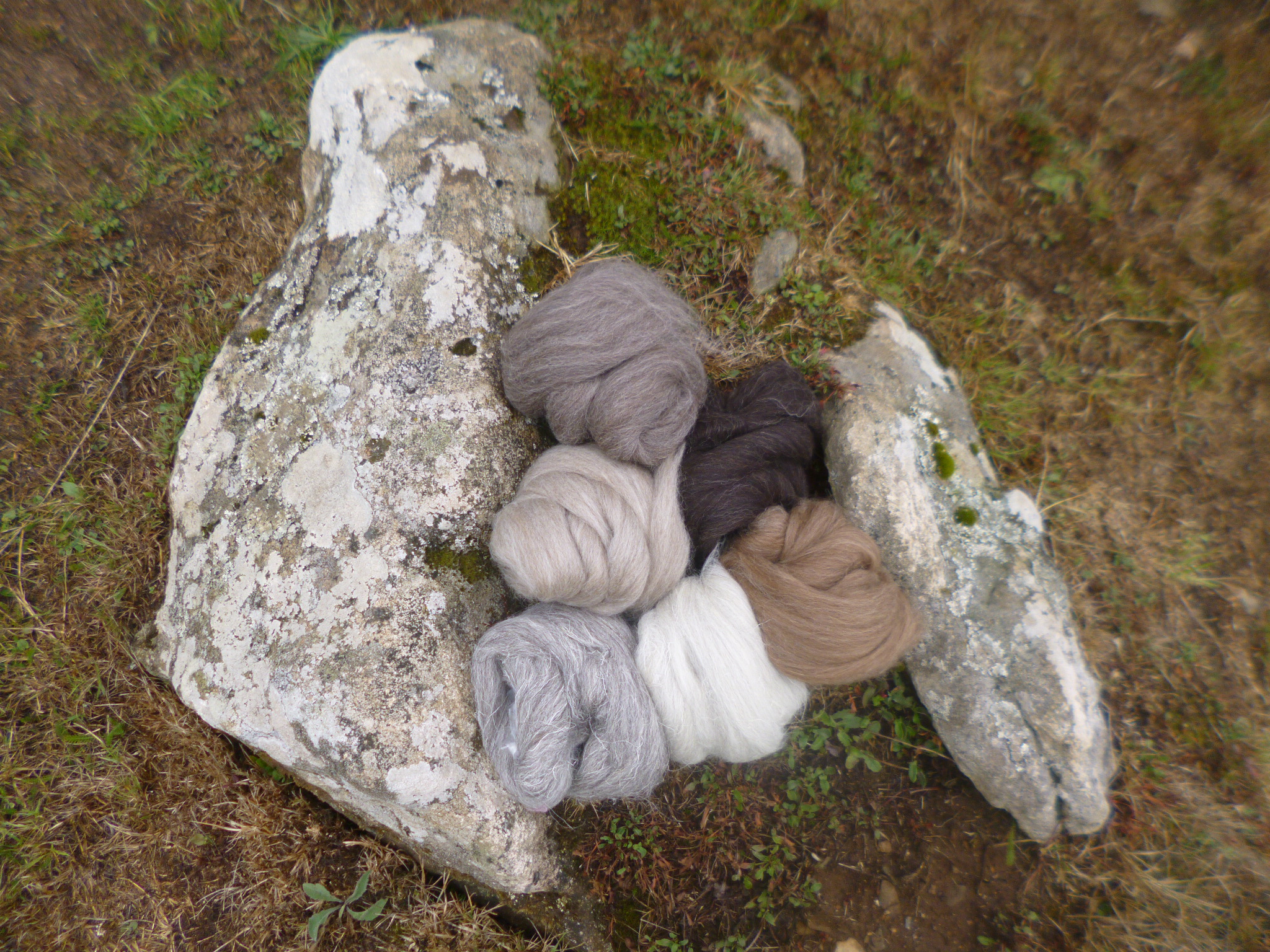 Learn to knit and crochet
If you're a complete beginner and would like to have a go or need help with a project come along for a friendly session of help and advice.
Materials: all provided, or bring a project you need help with.
Suitable for: everyone.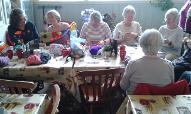 Spinning a yarn to Australia and back - a slow solo cycle ride
Come and see and hear the fascinating story of spinner and knitter Terri Bate's adventures cycling to Australia and back.
Proceeds to the Woodcraft Folk.